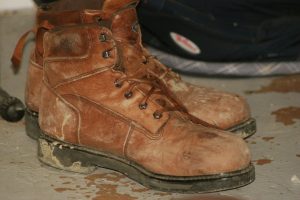 It was noisy in the meeting room as the construction workers assembled early one morning.  The concrete floor and cinder block walls created an echo chamber for the men's voices and the squeaking of metal chairs being pushed into place.  Spartan furniture and a dusty, bare floor were tell-tale signs that this room was used occasionally for crew meetings, but not much else.  Some folding tables on one side of the room strained under the weight of 3-ring binders and manuals stacked half-way to the ceiling.  Another table in the back held a large coffee urn and numerous boxes of doughnuts, most of which had already been claimed.
While Russ went to the front of the room to get the projector running, I settled into a metal chair beside the doughnut table, fighting the urge to grab one of the few remaining sugary treats.  Russ was the internal trainer. He was scheduled to talk to the group for the first hour.
The class about safety culture and leadership had been requested by the contractor's leadership team. The company recently had some serious injuries and near misses.  They were anxious to see what could be done to prevent another event.
The managers were perplexed why some of their guys were taking risks, even though they had implored them to "be careful."  Even more disturbing, it seemed as though someone was making a mistake on the job almost every week.  While all of these were small errors, the senior managers knew that any one of these mistakes could cause significant property damage or result in another injury under different circumstances.
As Russ went through the introductory slides and started the first class exercise, a burly man dressed in blue jeans and a shirt that appeared to be one size too small abruptly emerged from an office which adjoined the conference room.  The name plate and title above the door indicated that Ed was a supervisor.  Ed yanked his office door closed behind him, causing a loud thud when it met the door jamb.  I heard him mutter a couple of expletives as he walked briskly by my chair and walked heavily down the stairs on the far side of the room. Continue Reading