Red Light, Green Light
Years ago, I moved to a community in a different state for a new job.  While driving to work on the first day, I was involved in a number of near-miss automobile accidents.  Let me describe a risky driving behavior, which I quickly learned was "the way we drive around here".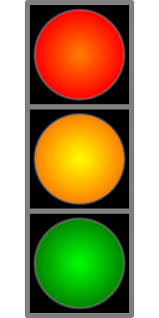 Drivers approached an intersection with a traffic light.  The green light turned to yellow.  As expected, one or two cars entered the intersection while the light was still yellow. But what I observed next surprised me.  After the light turned red, the next three drivers continued through the intersection.  Remarkably, the cars in the opposing lanes (who had a green light) paused for 3 or 4 seconds for the red light violators to clear, then drove through the intersection.  When the light turned red for opposing lanes of traffic, the same behavior repeated.  The unspoken norm was that a "red light" meant that 3 more cars were allowed to pass through the intersection….the 4th car should stop. The amazing thing to me was that somehow everyone knew that this was the rule.  At first, I thought this was an isolated incident.  As I soon discovered, this happened at every intersection.
Now imagine someone who had never been to this town (me) approaching an intersection – and expecting that red means stop and green means go.  It took me four or five close encounters (of the wrong kind) at intersections with local drivers to figure out what was happening.  I quickly adapted to the local behavior.  By the time I arrived back home, I was Driver #3 going through a red light.  No consequences.  No tickets.  In fact, local police cars were following the same protocol!  (I learned later that 3 cars was indeed the limit.  If the police observed a 4th car driving through a red light, that person was always ticketed).
What was going on here?  How could every local person in this large community end up developing and accepting a norm that was clearly violating the standard?  One explanation could be the concept of entropy. The dictionary provides one definition as follows:
 en·tro·py   lack of order or predictability; gradual decline into disorder.